Main content starts here, tab to start navigating
UBUNTU - "I am because we are"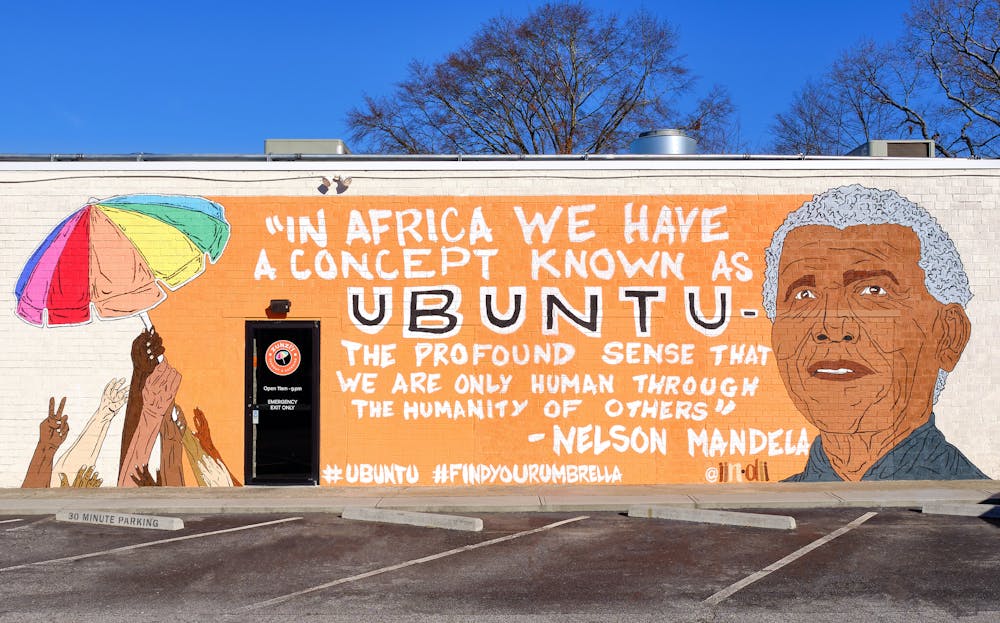 ZUNZI'S UNVEILS NEW MURAL AT WEST MIDTOWN LOCATION
Mural Contest Winner India Bullock Illustrates South African Concept of Ubuntu, One of Zunzi's Core Principles
ATLANTA (January 4, 2020) – Atlanta artist India Bullock has put the finishing touches on the new mural at Zunzi's flagship store in Atlanta's West Midtown neighborhood. Bullock and co-winner Ryan Stoddard were chosen from dozens of contest entries to collaborate on the design illustrating the South African concept of ubuntu.
Ubuntu is one of Zunzi's core principles. "Ubuntu is about the essential human virtues of compassion and humanity," says Zunzi's owner Chris Smith. "It means, 'I am because we are,' or 'Humanity towards all.' It's always been a part of our culture. When you drive by or walk up to our restaurant, you're going to know exactly what Zunzi's is about and what ubuntu is about. It's a message that I feel we really need."
Zunzi's management chose Bullock as the winner based on her portfolio and her interpretation of ubuntu. In her contest submission, Bullock said, "Ubuntu is about standing together, building and investing in our communities and spreading happiness and positive energy as a way of life." As the winner, she was commissioned to paint the 25' x 9' mural, is receiving free Zunzi's meals for one year and $5,000. As a co-winner for his design, Stoddard won $500 and free Zunzi's meals for one year.
ABOUT ZUNZI'S:
Zunzi's first opened its doors in 2005 with the sole purpose of filling the tummies of college students at the Savannah College of Art & Design with home-cooked meals. Since then, Zunzi's South African-inspired menu has won the hearts of not only SCAD students, but also locals and tourists visiting Savannah. By popular demand, Zunzi's expanded to Atlanta, Georgia, and opened a second location in May 2018. Menu items are available for dine-in (outdoor patio seating only in Savannah), takeout, delivery and catering. Zunzi's is now focused on further expansion by franchising locations in the Southeast. For more information, photos, and menus visit zunzis.com.